Glittering like a jewel under the bright Southwestern sun, the dazzling surroundings and the eight months of nearly perfect weather in Phoenix have drawn people to this fascinating Arizona city. It is easy to understand why Phoenix was chosen as the capital of Arizona, Phoenix is an ideal travel destination. It is known for its warm temperatures and low humidity. Lying on flat desert and surrounded by mountains and green irrigated fields, it is a resort, convention, and government center as well as a thriving industrial area.
Phoenix at a Glance…
By day, the sun fairly sparkles, and as evening nears the sunsets splash purple and blazing orange across the vast horizon. It is because of these wondrous sights that Phoenix's metro area is called the Valley of the Sun. This once sleepy agricultural town is now increasingly active and constantly expanding.
Residents have no qualms about driving 200 miles for a picnic or a swim, and visitors should be prepared to follow their example by securing a rental car in order to get around. There is so much to see and do that you will want to explore in all directions. The highway system is easy to understand and to follow. Even if you don't venture beyond the downtown area, you will find a surprising energy and level of activity amid the buildings at Van Buren and Third streets in the newly restored and renovated Copper Square area. If you have not visited downtown Phoenix for awhile, the winning combination of quality restaurants, museums, shops, and nightclubs will surely exceed your expectations.
The area's awesome beauty, from the top of nearby South Mountain to the distinctive Camelback Mountain, eclipses any manmade building. As you stroll through the desert you will be surprised by the abundance of blooming vegetation, and moved by the grandeur of rolling hills that are criss-crossed by hiking trails.
The sun shines all day; the nights are pleasantly cool. There are so many activities and attractions to enjoy while visiting Phoenix. As a vacation spot it pleases both the sophisticated traveler and the casual vacationer.
Places to Stay in Phoenix…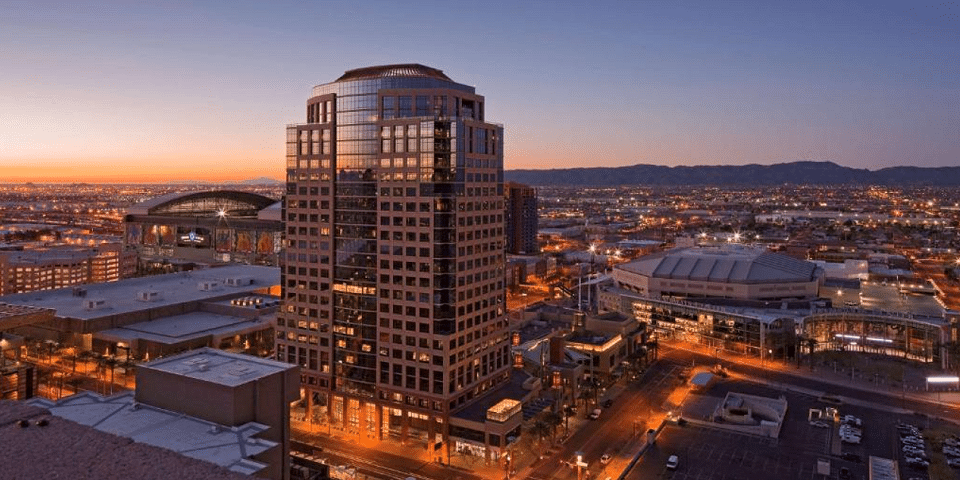 Phoenix offers a wide range of accommodation options to suit various budgets and preferences. Whether you're looking for luxury resorts, mid-range hotels, or budget-friendly motels, you'll find plenty of places to stay in the city. Here are some areas and hotels to consider:
Downtown Phoenix: Staying in downtown Phoenix puts you close to many attractions, restaurants, and entertainment options. Some notable hotels in this area include:

Sheraton Phoenix Downtown: Centrally located in downtown Phenix, this 4-star hotel features an outdoor pool and on-site dining. The Phenix Convention Center is a 5-minute walk away.
Hyatt Regency Phoenix: This Central Phenix hotel is 4 miles from Sky Harbor International Airport. Each room features a flat-screen TV. It offers a pool, hot tub and valet parking on site
Hampton Inn and Suites Downtown: Located in Phoenix, a 4-minute walk from Copper Square, Hampton Inn & Suites Phoenix Downtown provides accommodations with a fitness center, private parking,

Scottsdale: Located just east of Phoenix, Scottsdale is known for its upscale resorts, shopping, and dining. Popular Scottsdale accommodations include:

Best Western Plus Sundial: 12 miles from Phoenix Convention Center, Best Western Plus Sundial provides 3-star accommodations in the Old Town Scottsdale district of Scottsdale.
Scottsdale Marriott at McDowell Mountains: This luxury resort is located in the McDowell Mountains, steps away from TPC Scottsdale tournament golf courses.
Embassy Suites by Hilton Scottsdale Resort: Located in Scottsdale, this all-suite hotel offers 2 outdoor heated pools with hot tubs. Each spacious suite at Embassy Suites by Hilton Scottsdale Resort is furnished with a separate living area that includes cable TV and video games.

Tempe: Located near Arizona State University, Tempe offers a lively atmosphere with plenty of dining and nightlife options. Notable hotels include:

Drury Inn & Suites Phoenix Tempe: Featuring a daily hot breakfast buffet, Drury Inn & Suites Phenix Tempe is 10 minutes' drive from Arizona State University.
Holiday Inn Express & Suites Phoenix – Tempe: Located in Tempe, 10 miles from Copper Square, Holiday Inn Express & Suites Phoenix – Tempe, an IHG Hotel has accommodations with an outdoor swimming pool, free private parking, a fitness center and a shared lounge.
When choosing your accommodation in Phoenix, consider factors like your budget, preferred location, and the amenities you desire. Booking in advance is recommended, especially during peak tourist seasons or major events, to secure the best rates and availability. Phoenix has a wide range of accommodation options to make your stay enjoyable, whether you're visiting for business or leisure.
Places to Eat in Phoenix…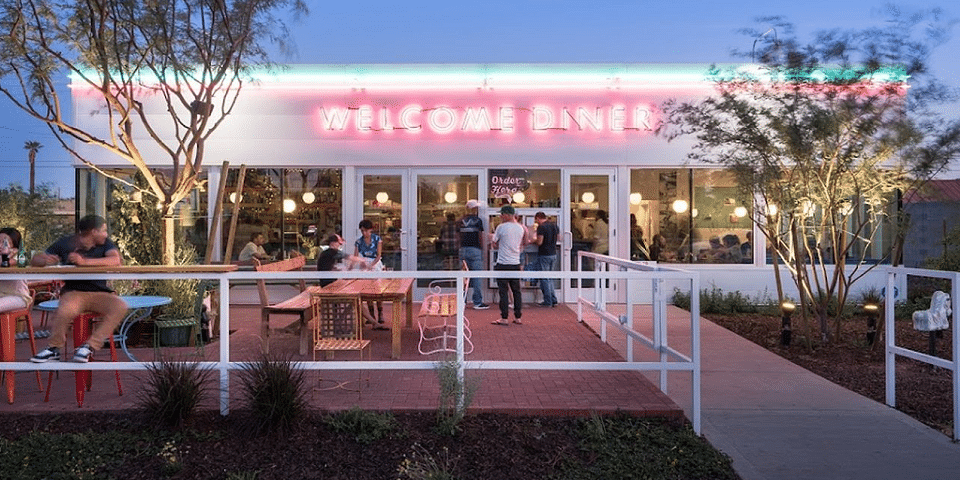 Phoenix offers a diverse culinary scene with a wide range of dining options to suit every taste and budget. Here are some popular places to eat in Phoenix, catering to different cuisines and dining experiences:
Pizzeria Bianco: Renowned for its wood-fired pizzas, Pizzeria Bianco is often considered one of the best pizza places in the United States. The Margherita pizza is a must-try.
Rokerij: This cozy spot specializes in comfort food with a Southwestern twist. Try their famous green chile stew, and don't forget to check out the adjacent Richardson's, which offers New Mexican cuisine.
The Welcome Diner: For a taste of Southern comfort food, head to The Welcome Diner. Their fried chicken and biscuits are highly recommended.
Cornish Pasty Co.: Enjoy traditional Cornish pasties in a fun and eclectic atmosphere. They offer both savory and sweet pasties with a variety of fillings.
Chino Bandido: This unique fusion restaurant combines Chinese and Mexican cuisines, offering dishes like "Jade Red Chicken" and "Jerk Fried Rice."
Matt's Big Breakfast: A beloved breakfast spot, Matt's serves up classic American breakfast and brunch dishes. Their bacon is especially popular.
Pomo Pizzeria: Another top-notch pizza place in Phoenix, Pomo Pizzeria specializes in Neapolitan-style pizza. The Margherita di Bufala and the Tartufo Nero are highly recommended.
Culinary Dropout: A trendy gastropub with a relaxed atmosphere, Culinary Dropout serves American comfort food and craft cocktails. Their "soft pretzels and provolone fondue" is a crowd-pleaser.
Barrio Café: For authentic Mexican cuisine with a creative twist, Barrio Café is a top choice. Try their mole dishes and handmade tortillas.
Little Miss BBQ: Phoenix has its share of outstanding barbecue, and Little Miss BBQ is often regarded as the best. The smoked brisket and pulled pork are popular choices.
Lux Central: A local favorite, Lux Central offers a cafe atmosphere with an array of coffee, pastries, and a diverse menu that includes sandwiches, salads, and breakfast options.
Chelsea's Kitchen: Located along the Arizona Canal, Chelsea's Kitchen offers American cuisine with a focus on fresh and seasonal ingredients. The outdoor patio is perfect for enjoying the Phoenix weather.
The Arrogant Butcher: This downtown steakhouse and seafood restaurant is known for its impressive selection of meats, seafood, and craft cocktails.
Ocotillo Restaurant: Featuring modern American cuisine with global influences, Ocotillo is known for its stunning patio and a menu that includes wood-grilled dishes and creative cocktails.
Fuego Bistro: For a unique dining experience, consider Fuego Bistro, which offers Latin-inspired cuisine in an intimate setting.
Remember that Phoenix is known for its Mexican food, so don't miss the chance to savor some authentic Mexican dishes at local taquerias and Mexican restaurants as well. Additionally, it's a good idea to make reservations at popular restaurants, especially during peak dining hours. Enjoy your culinary adventure in Phoenix!
Places to Visit in Phoenix…
Phoenix, Arizona, offers a wide range of attractions and places to visit for tourists. Whether you're interested in nature, culture, or outdoor activities, Phoenix has something to offer. Here are some must-visit places in Phoenix:
These are just a few of the many attractions you can explore in Phoenix. Whether you're interested in art, nature, history, or outdoor adventures, Phoenix has something to offer every type of traveler. Don't forget to check the opening hours and any admission fees for these attractions before your visit.
Getting Around Phoenix…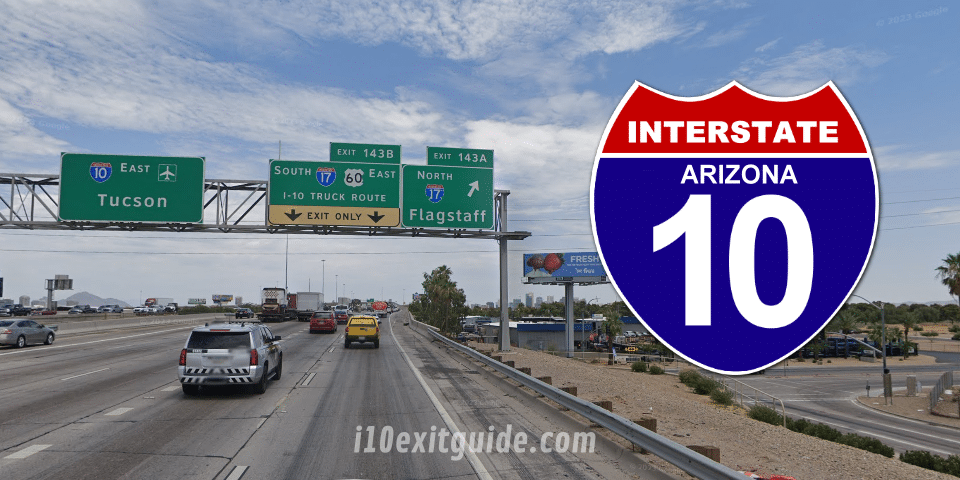 Getting around Phoenix by car is a popular and convenient option for tourists. Here are some tips and information to help you navigate the city by car:
GPS Navigation: Consider using a GPS navigation system or a navigation app on your smartphone to help you get around. Apps like Google Maps, Apple Maps, and Waze are helpful for directions, traffic updates, and finding nearby amenities.
Traffic and Rush Hours: Be aware of Phoenix's traffic patterns. Rush hours in Phoenix typically occur during weekday mornings (around 7:00 AM to 9:00 AM) and afternoons (around 4:00 PM to 6:00 PM) on major highways and freeways. Try to plan your trips accordingly to avoid heavy traffic.
Street Grid System: Phoenix has a straightforward grid system with streets running north-south and avenues running east-west. Numbered streets and avenues make navigation relatively easy. Central Avenue serves as the east-west dividing line, with street numbers increasing as you move away from Central Avenue.
Parking: Phoenix offers plenty of parking options, including street parking, parking garages, and parking lots. Some areas may require payment for parking, while others may offer free parking.
Downtown Parking: In downtown Phoenix and popular areas like Old Town Scottsdale, parking can be limited, and it might be necessary to use parking garages or lots. Make sure to check the hours and fees for parking facilities.
Gas Stations: Gas stations are plentiful in Phoenix, and you'll have no trouble finding one when you need to refuel. Most accept credit and debit cards, but it's a good idea to carry some cash just in case.
Traffic Laws: Familiarize yourself with Arizona's traffic laws, including speed limits, seat belt requirements, and rules for right turns on red lights. Pay attention to posted signs and obey traffic signals.
Emergency Supplies: In the hot desert climate, it's crucial to carry extra water and emergency supplies in your car, especially if you plan to venture outside the city.
Toll Roads: There are no toll roads within the city of Phoenix. However, if you plan to travel to other parts of Arizona, there may be tolls on some highways.
Insurance and Documents: Ensure you have the necessary car rental insurance and all relevant rental documents. If you're driving your own vehicle, make sure your insurance is valid in Arizona.
Remember that during the summer months, temperatures in Phoenix can reach extreme highs. Always have water and supplies in your car, and take precautions to prevent heat-related illnesses. Additionally, plan your excursions to popular attractions and destinations, as some may require advanced reservations for parking or have limited parking availability.
---
The I-10 Exit Guide is the Internet's largest and most complete website dedicated to Interstate 10 travelers. Find detailed exit service listings… lodging, camping, food, gas and more for every exit from California to Florida!
On the road? Why not take us with you. The I-10 Exit Guide is mobile-friendly and totally FREE. No App Required.
Traveling another route? Visit our growing family of exit guides:  I-4 Exit Guide, I-5 Exit Guide, I-10 Exit Guide, I-75 Exit Guide, I-80 Exit Guide and I-95 Exit Guide. Detailed exit service listings… discount lodging, camping, food, gas and more for every exit along the way!