I-10 Texas
Interstate 10 (I-10), is 2,460 miles long as is the major east–west Interstate Highway in the Southern United States. In Texas, it runs east from the border of New Mexico, through San Antonio, Houston and Beaumont to the border with Louisiana. Texas' segment of I-10 is approximately 879 miles long.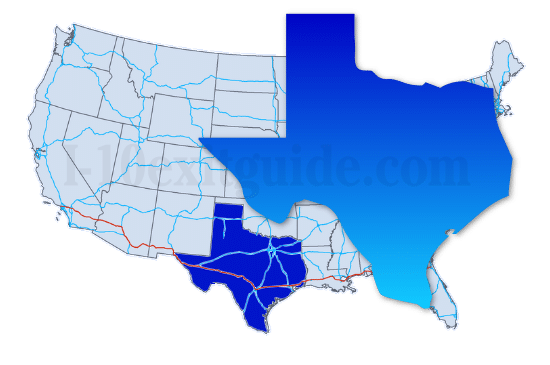 Exit numbers for I-10 in Texas are based on the mile marker system, beginning at the New Mexico-Texas border.
Food: 7-11, Burger King, Carl's Jr., Denny's, Green Burrito, KFC, Subway, Taco Bell, Wendy's
Gas: Fina, Flying J, Pilot
Lodging: Best Western Oasis of the Sun, Super 8
Shopping: Dollar General, Lowe's Big 8 Supermarket, Walgreen's Pharmacy
Attractions: to Wet and Wild Waterworld
Full Handicapped Facilities
Public Telephones
Tourist Info
Picnic Area
Pet Walk
Food: Subway
Gas: Mobil, Petro
Food: Dairy Queen, Hot Dog on a Stick, Howdy's Foods, McDonald's, Rice Garden, Subway, Tacos and Salsas, Tazas Coffee, Villa Fresh Italian Pizza, Whataburger
Gas: Chevron, Shell
Shopping: Adidas, Aeropostale, Ann Taylor, Banana Republic, Bass, Brooks Brothers, Casual Male, Coach, Converse, Disney Store, Dress Barn, Factory Footwear, Fossil, Gap, Guess, Izod, Kenneth Cole, Lane Bryant, Levi's, Loft Outlet, Michael Kors, New Balance, Nike, Nine West, Old Navy, Puma, Rack Room Shoes, Rue21, Sketcher's, Tommy Hilfiger, Van Heusen, Vanity Fair Outlet
About These Listings…
For your trip planning, exit services accessible from Texas I-10 exits are listed on this website. Texas exit services include:
Food – (restaurants, diners, fast food, etc.) located within 1/2 mile of a Texas I-10 exit
Gas – (chain and independent stations) located with 1/2 mile of a Texas I-10 exit
Lodging – (hotels, motels, inns and suites) located within 1/2 mile of a Texas I-10 exit
Shopping – (big-box, malls, outlet centers and strip businesses) located within 1/2 mile of a Texas I-10 exit
Camping – (campgrounds and rv parks) located within 10  miles of a Texas I-10 exit
Attractions – (parks, entertainment, sports, etc.) located within 25 miles of a Texas I-10 exit.
These Texas I-10 listings run west to east. Individual exits show mile marker (in parenthesis) with intersecting routes and cities and towns accessible from that exit.