I-10 Arizona
Interstate 10 (I-10), is 2,460 miles long as is the major east–west Interstate Highway in the Southern United States. In Arizona, it runs east from the border of California, through Phoenix and Tucson to the border with New Mexico.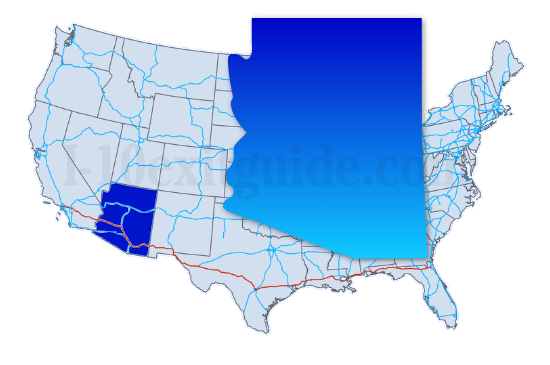 Exit numbers for I-10 in Arizona are based on the mile marker system, beginning at the California-Arizona border.
Food: Cookery Restaurant and Buffet
Gas: Flying J, Texaco
Lodging: Best Western
Camping: River Lagoon Resort, Sunset RV Park, Vista Del Rio River Resort
. . . . . . . . . . . . . . . . . . . . . . . . . . . .
Full Handicapped Facilities
Vending Machines
Public Telephone
Picnic Area
Pet Walk
Food: Quizno's Subs
Gas: Sun Mart, Texaco
There are no services immediately available from this exit.
Food: Burger King, Carl's Jr, Chester's Chicken, Dairy Queen, McDonald's, Quartzsite Yacht Club Restaurant and Bar, Subway
Gas: Love's, Mobil, Pilot
Lodging: Quartzsite Yacht Club Motel
Camping: B10 Campground, Holiday Palms RV Park, La Mirage RV Park, Rose RV Park, Sunsetters RV Park
About These Listings…
For your trip planning, exit services accessible from Arizona I-10 exits are listed on this website. Arizona exit services include:
Food – (restaurants, diners, fast food, etc.) located within 1/2 mile of a Arizona I-10 exit
Gas – (chain and independent stations) located with 1/2 mile of a Arizona I-10 exit
Lodging – (hotels, motels, inns and suites) located within 1/2 mile of a Arizona I-10 exit
Shopping – (big-box, malls, outlet centers and strip businesses) located within 1/2 mile of a Arizona I-10 exit
Camping – (campgrounds and rv parks) located within 10  miles of a Arizona I-10 exit
Attractions – (parks, entertainment, sports, etc.) located within 25 miles of a Arizona I-10 exit.
These Arizona I-10 listings run west to east. Individual exits show mile marker (in parenthesis) with intersecting routes and cities and towns accessible from that exit.