RoadNews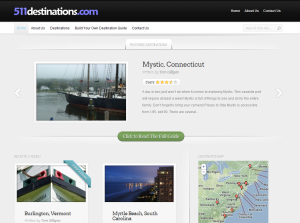 "Travel guides for major tourist destinations are a dime a dozen on the Internet. We focus on the not-so-major destinations… the true undiscovered gems!" says the new website, 511Destinations.com.
511destinations.com is a different kind of travel guide. While most vacation guides on the Internet concentrate on the major tourist destinations, this new website presents smaller market and off the beaten path destinations… with a twist.
Rather than being bombarded with local information to sift thru, each 511destination is a snapshot. Where to stay, eat, go and how to get around are the basics, presented in a clean, well designed layout with eye-catching graphics and great functionality.
What's more, users are encouraged to build their own destination guide simply by submitting a brief overview. Right now, there are no limits. You can be a proud resident that wants to tell the world about your town, a traveler that's itching to share a destination they've discovered, or a business looking to promote themselves via a little local information.
It's a great little website loaded with information that you often just can't find anywhere else. 511destinations.com is also built to accommodate viewing on smartphones and mobile devices!