Louisiana: DOT Holds Groundbreaking Ceremony for I-10 Project in Slidell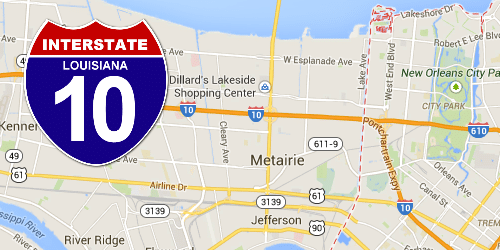 The Louisiana Department of Transportation and Development's Secretary Sherri H. LeBas hosted a groundbreaking ceremony to mark the beginning of a nearly $40 million repair project on Interstate 10 in Slidell. The ceremony was held at the Slidell Welcome Center where DOTD was joined by local officials.
The project will involve replacing the worn pavement on I-10 east toward the West Pearl River Bridge (near the Slidell Welcome Center) to the French Branch Bridge, as well as the pavement on the I-10/I-12/I-59 interchange ramps.
Sec. LeBas said, "Pavement distresses accumulate due to age and the constant pounding from traffic. These high-volume corridors we are addressing are very critical to the efficiency of hurricane evacuation operations and are primary routes to our neighbors in Mississippi. These improvements will provide a safer, smoother, more efficient roadway."
In addition to travelers to and from Mississippi, there are several area industries within the corridors including three health care facilities, four airports, the ports of New Orleans and St. Bernard, CSX Transportation, and Thompson Packers, Inc. Motorists should expect several scheduled lane closures, including extended weekend closures, to allow the contractor enough time to work.
"With approximately 68,000 daily commuters in addition to commercial businesses, we worked with industry partners throughout the planning process to determine how much work could be performed if we allowed the extended weekend closures," said Sec. LeBas. "Though temporary, we understand that travel will be a challenge. We encourage all drivers, both in state and out, to adjust travel times to allow for any traffic impacts. Also, be patient and don't drive distracted, especially in and around work zone areas."
The project is collaboration between DOTD, the Federal Highway Administration, Shred-Kuykendall and Neel-Schaffer. Work is expected to be completed by summer 2016.
Construction of the project is funded by $35.6 million in federal monies, with another $3.9 million in state funds.
"It's important to have safe roads," said Rep. Kevin Pearson. "I think [Interstates] 10, 12 and 59 is one of the few areas, I think really in the country, where you have three interstates come together and its vital to hurricane evacuation."
"The impacts [of infrastructure projects] on St. Tammany Parish as a whole are many," said Parish President Pat Brister. "They include safety, efficiency and less wear and tear on vehicles. They also include the impression we leave on our visitors who pass through our community. We encourage tourists to pass through our great parish every chance they get because tourism is part of our economic engine. So, we know [this project] is very important."
"Our troopers will be working very closely with DOTD and highway workers to ensure safety in work zones," said Sgt. Nick Manale of Louisiana State Police. "It is also the responsibility of motorists and they should use extra caution when traveling through work zones, and avoid driving distracted at all times."
---
On the road? Visit our growing family of exit guides: I-4 Exit Guide, I-5 Exit Guide, I-10 Exit Guide, I-75 Exit Guide, and I-95 Exit Guide.